The British Institute of Radiology welcomes Global CMO as Board Member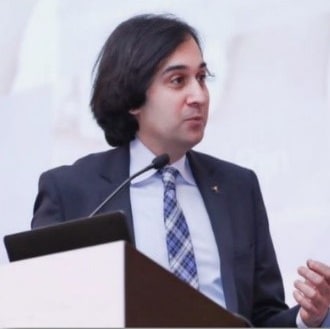 Comprising of 12 trustees, The British Institute of Radiology Board is the governing body of the institute, meeting every quarter to engage in local governance and direct in how the organisation is managed. The trustees are selected from the Imaging and Oncology community to add experience and valuable insights to the group.
In October 2022, Agfa HealthCare had the pleasure in announcing that their Global Chief Medical Officer, Dr Anjum Ahmed, will be joining as Board Member, as well as representing Agfa HealthCare as a long-standing member of the Institute.
Dr Ahmed is instrumental to the Agfa HealthCare clinical operations and leads Enterprise Imaging and AI innovation initiatives to help healthcare organisations enable value-based care models, helping improve care and maximize value with their health IT investments. His white papers on the evidence-based application of AI in medical imaging have been published and distributed globally by thought leading publications and forums.  Often speaking at international events, Dr Ahmed specialises in evidence-based application of machine learning and cognitive computing into healthcare.
Speaking on behalf of the British Institute of Radiology, President Professor Stephen Keevil, comments on the appointment:
"We are delighted that Dr Anjum Ahmed has joined the BIR Council. He has been an active member of the Artificial Intelligence and Innovations SIG for almost three years so we are confident that his commercial and medical expertise will be invaluable as we embark on our new 5-year strategy and we look forward to working with him."
 Dr Ahmed also reflects on the news:
"I am honoured to join the BIR Council, which is made up of a very diverse group of experienced thought leaders. Over the past few years, I have had the opportunity to closely collaborate with the BIR on innovative topics such as the application of AI in medical imaging representing Agfa HealthCare. I am now looking forward to working as the BIR Council Member on exciting growth initiatives articulating the BIR's values."
The British Institute of Radiology supports the work of members to achieve professional excellence, provide continuing professional development for the UK multidisciplinary community, publish international cutting-edge research and connect with the wider professional sector to share learnings. As one of the oldest institutes of its kind in the world, the BIR has been working for over 125 years to improve medicine, health and patient care through the science and practice of imaging and radiation oncology. We are certain that the skillsets and expertise of Dr Ahmed, one of the most globally prolific imaging IT pioneers, will support the BIR to continue its drive momentum, and trail-blazing innovations.