A new era of timely diagnosis and customized care
The best view of the patient, for preventative screening and diagnostic breast imaging.
In breast cancer treatment, early detection and diagnostic accuracy are key to providing the patient with the best possible outcome.
From the patient's imaging history, to advanced clinical, measurement, reporting and collaboration tools: Enterprise Imaging for Breast Imaging makes sure you have everything you need for both screening and diagnostic procedures – on a single platform – so there are no distractions to interrupt your flow.
You can focus on pure productivity and patient care.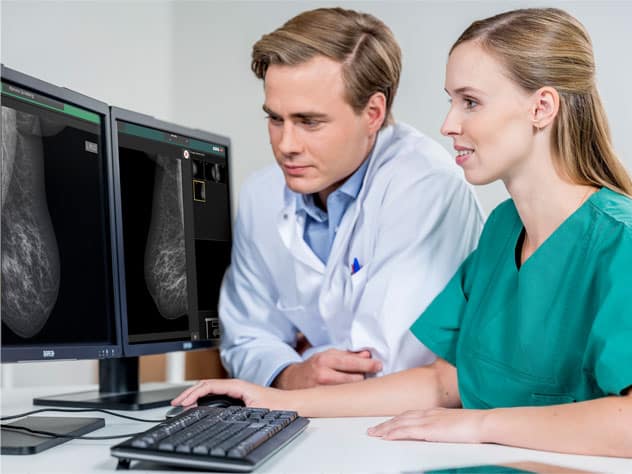 Ultra-confident decision-making
Support your diagnostic and screening processes with specialized tools, advanced yet flexible display protocols, and 2D and 3D workflows, for greater diagnostic confidence.
Everything you need on a single screen
No need to 'push' and 'pull' images from one system to another; everything is available on a single workstation – including the patient's images from multiple modalities: mammograms, breast MR and breast ultrasound – enabling you to spend more time on high-impact work.
Virtual collaboration, enhancing patient care and outcomes
Care professionals can participate in interactive conferences, tumor boards, clinical discussions and more, without any special additional equipment.
Reports that support fast, informed diagnosis
The consistent, predictable workflow and templates help you to create relevant, clearly structured reports, supporting informed and timely diagnosis.
NEW – Enhanced clinical decision support, with Augmented Intelligence
Focused solutions, offering real value and a seamless user experience, are fully integrated in the Enterprise Imaging workflow, in a package comprising:
2D and 3D (DBT) mammography powered by AI, with CE and FDA clearance

CAD support for 2D mammography

Enhanced clinical decision support tools with evidence-based pixel intelligence

An interactive decision support tool, embedded in the Enterprise Imaging desktop

Workflow and worklist automation based on abnormality scores