AGFA HealthCare announces the successful GO LIVE of Breast Imaging AI solution at Dubai Academic Health Corporation (DAHC) Dubai Hospital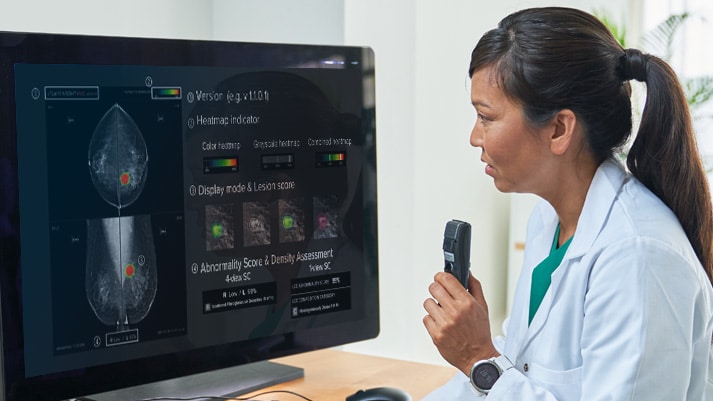 Dubai Academic Health Corporation (DAHC) is modernizing its Breast Cancer Diagnostic and Screening program with AGFA HealthCare's RUBEE® for AI framework and Lunit INSIGHT® MMG algorithm
AGFA HealthCare's RUBEE® for AI keeps radiologists in their flow whilst laying the foundation and framework for analytically intelligent "clinical packages" seamlessly embedded within AGFA HealthCare Enterprise Imaging. By creating an efficient and effective work experience for radiologists, RUBEE® for AI allows radiologists to stay focused on what's most important: patient diagnosis and treatment.
AGFA HealthCare and the Radiology team at DAHC hospitals have been engaged in validating and testing the role of AI in Radiology and its impact on improving patient care pathways since 2015.
AGFA HealthCare began working on UAE's first AI validation and development project 5 years ago, initially focusing on assessing the role of AI in improving Medical Fitness's Chest X-ray screening program. Results of this collaborative effort were presented in the European Respiratory Society Journal in 2018 (Print ISSN 0903-1936).
Beyond Chest X-Ray AI, the DAHC and Agfa HealthCare continued their assessment of AI and its role in improving other population health initiatives, and are now pleased to announce the GO LIVE of the Breast AI solution at the Dubai Hospital.
The solution, Breast AI Analysis Package, is powered by AGFA's RUBEE® for AI framework and Lunit INSIGHT® MMG algorithm, and is seamlessly embedded in AGFA HealthCare's Enterprise Imaging solution that is already deployed at the radiology departments of DAHC hospitals in Dubai. Agfa HealthCare's strategic approach enabled the Dubai Hospital to GO LIVE smoothly after completing its IT, security, and other relevant requirements.
The Breast Imaging AI project is a culmination of the joint efforts of the DAHC Radiology team and Agfa HealthCare for over a period of three years, during which the use of AI was reviewed and assessed across the radiology departments of Dubai Hospital and Primary Healthcare Centres. AGFA HealthCare has already launched several evidence-based, specialty focused AI clinical packages offering advanced visualizations, workflow automation, triage and automated decision support capabilities including precision reporting as part of the RUBEE® framework.
Dr. Anjum Ahmed, Global Chief Medical Officer and the Director of Artificial Intelligence Innovations at AGFA HealthCare has remained engaged with the radiology team at DAHC in understanding their clinical and technical requirements that would help address the current and future AI requirements at DAHC hospitals: "Radiology has been at the forefront of innovation when it comes to providing diagnostic intelligence to the clinical users. With the introduction of innovative AI solutions into their workflows, Radiologists will become data driven diagnosticians and will be able to provide evidence-based intelligence to referring physicians and help improve the delivery of patient care."
Healthcare systems across the globe have been exploring the potential application and benefits of Artificial Intelligence for improving quality care, focused on improving diagnostic confidence. There are hundreds of start-ups and AI developers working in the healthcare arena, each focusing on highly specific applications. Selecting an AI solution by healthcare organizations requires assessment on several levels, including clinical and technical, as integrating AI into existing system and workflows is far from simple. AGFA HealthCare and DAHC teams worked closely assessing these aspects of embedding AI into existing radiology workflows, to enable smooth transition and fast user adoption at the Dubai Hospital, after clearing strict IT security assessment as laid out by the Dubai Academic Health Corporation.
"RUBEE for AI lays the foundation and framework for analytically intelligent "clinical packages" seamlessly embedded within Enterprise Imaging, creating an efficient and effective work experience for radiologists.  The Breast AI Analysis package provides powerful tools for cancer risk-based triage, along with natively embedded CAD AI visualizations and advanced 2D/3D mammography tools powered by Lunit INSIGHT MMG," added Dr. Anjum Ahmed who is also a Board Member at the prestigious British Institute of Radiology.
Silvio Selvaggio, General Manager Direct Export at AGFA HealthCare comments: "DAHC investment in AGFA HealthCare AI framework demonstrates our strategic approach and pledge to support our customers' vision in the field of medical and scientific innovations. Our flagship Enterprise Imaging solution, and its innovative functionalities is designed to keep diagnosticians in a hyper-focused state of mind all day long, and we will continue to collaboratively work with our customers to introduce such innovations."

Next steps and innovations
At Arab Health 2023, radiologists and visitors can find out how AGFA HealthCare continues to work on innovative solutions to enhance the radiologist's workflow and value.
Discuss with us how to find your flow, at AGFA HealthCare booth #S1.F30 – World Trade Centre, Dubai, UAE, January 30 – February 2, 2023.