University Health, in San Antonio, Texas, upgrades to AGFA HealthCare Enterprise Imaging 8.2, bringing "flow" to radiology, cardiology and beyond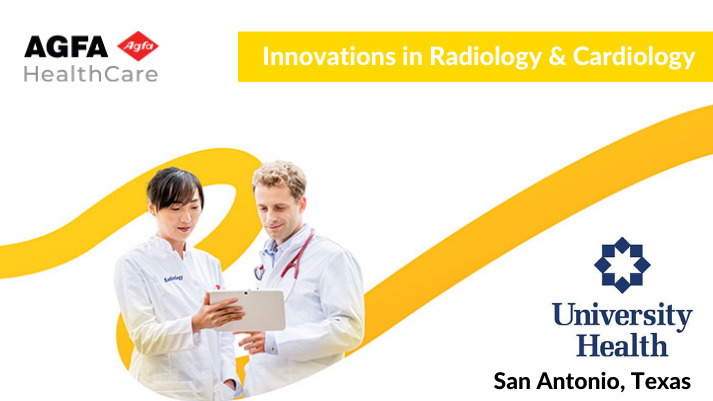 Eliminating imaging siloes, AGFA Enterprise Imaging 8.2 offers radiologists and cardiologists a single space for reporting, with customizable, modular workflows
AGFA HealthCare Enterprise Imaging platform is designed to help clinicians stay fully focused on delivering the highest level of patient care, free of distractions.
The upgrade to Enterprise Imaging for Radiology 8.2 delivers automation, uncontrived integration, and cross-team collaboration that simplify radiologists' daily professional life, enhance their productivity, and boost the value of their work.
By implementing AGFA HealthCare Enterprise Imaging for Cardiology, University Health will also improve its cardiologists' work experience across specialties and modalities, while offering web-based image viewing and universal access.
While radiologists and cardiologists have very different workflows and needs, with its upgrade to AGFA HealthCare's Enterprise Imaging (EI) 8.2 and addition of Enterprise Imaging for Cardiology, University Health, in San Antonio, Texas, brings "life in flow" to both. By enhancing clinicians' productivity and offering a meaningful and unified experience, AGFA HealthCare EI 8.2's innovations help them to work at the top of their craft and focus on what's most important: caring for patients.
Saving time, improving collaboration, and enhancing the clinician's role
In 2019, University Health (UH) began its Enterprise Imaging journey, when it first implemented Enterprise Imaging for Radiology. Following the success of its collaboration with AGFA HealthCare, UH upgraded to the latest version of Enterprise Imaging platform (EI 8.2), which delivers innovations that keep clinicians and health networks "in the flow". EI 8.2 not only enhances the benefits to radiologists, but brings them to cardiologists, as well.
University Health (UH) is a public hospital with 700 beds, more than 2,400 clinicians, and over 9,000 employees. It also has 25 outpatient specialty and family medicine locations, and is opening a new 300-bed women and children's hospital in summer 2023. Furthermore, UH is an academic teaching partner of the University of Texas Health Science Center at San Antonio (UT Health San Antonio).
"Consolidating imaging with AGFA Enterprise Imaging was a big step towards supporting our goal to work as a unified enterprise
rather than a patchwork of siloes. Our clinicians have what they need to quickly access the patient's complete file, generate a report, and distribute it, all during one session, and from anywhere. Distractions are eliminated and information is available how and where the clinicians need it," says Gene Winfrey, IT Director, Biomedical Engineering & Enterprise Imaging Services at University Health.

"UH first 'tested' the AGFA Enterprise Imaging platform with inpatient imaging, and confirmed the additional benefits to radiologists such as the advanced and customizable work lists, enhanced collaboration and sharing, and accessibility of reports and images through the integration with the EPIC EHR, to name a few. Now, EI 8.2 takes this further: powerful automation features eliminate many routine tasks and clinicians can stay longer in that hyper-focused state of mind where distractions melt away, and the work truly flows," says says Mark Burgess, President North America, AGFA HealthCare.
Radiology: from silo patchwork, to consolidated imaging
A patchwork of unintegrated imaging management solutions from multiple vendors can slow down radiologists and make it harder to care for patients in a timely and effective way. The upgrade to EI 8.2, which went live for radiology in November 2022, delivered tools and workflows that cut through the "noise" of the radiologists' day-to-day work, and allow them to stay focused on patient care, accurate diagnoses, and their own wellbeing.

Cardiology: working wherever and whenever they need
UH decided to expand their Enterprise Imaging to Cardiology, which is planned to go live in June 2023. Enterprise Imaging for Cardiology improves the cardiologist's work experience with web-based image viewing and access, powerful advanced analysis applications, structured reporting, flexible workflows and collaboration tools – all available in a single workspace. XERO® workflows will also allow UH's 25 cardiologists, 5 pediatric cardiologists and 5 vascular specialists to produce, interpret, collaborate on, and make decisions around images, from computers and mobile devices.
"Our decision was bolstered by our solid relationship with AGFA HealthCare. They continue to be our trusted partner along our Enterprise Imaging journey, supporting our goals to deliver sustainable and superior care outcomes to our patients, while enhancing our efficiency and productivity. It's very important to find a vendor who understands and is responsive to our priorities and needs. For us, that is AGFA HealthCare," says William Philips, Executive Vice President / Chief Information Officer of University Health.

"Healthcare today is facing an age of unprecedented medical innovation, but along with this come ever-increasing volumes of data and information. By acting at the intersection of patient care and technology, we aim to make data and technology an extension of the clinicians' thought process, rather than a constant distraction from their 'real' work – diagnosing and treating patients. We are delighted to continue to strengthen our relationship with UH, and to move hand-in-hand with them in this next stage of their EI journey to excellence," says Mark Burgess, President North America, AGFA HealthCare. 
To learn from the experiences of leading healthcare providers with Enterprise Imaging, access AGFA Healthcare Customer References section.