Australian Northern Health partners with AGFA HealthCare Enterprise Imaging and RUBEE® for AI to transform healthcare delivery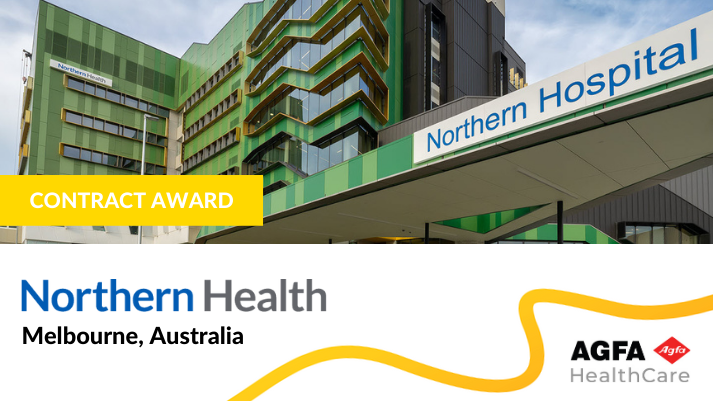 Prominent Australian healthcare provider Northern Health joins the growing number of AGFA HealthCare customers in ASPAC, who are already leveraging the benefits of unified Enterprise Imaging platform. The agreement supports Northern Health's vision to transform its healthcare services through outstanding innovations and excellence.
AGFA HealthCare is pleased to announce that it has signed a five-plus-five-year agreement with Northern Health, in Melbourne, Australia. AGFA's latest generation of the Enterprise Imaging 8.2 Platform for Radiology, including RUBEE® for AI framework, will enhance the provider's healthcare delivery capabilities. Enterprise Imaging innovations will bring "life in flow" to Radiologists, deliver advanced solutions, automation and efficient workflows which enables clinicians to stay focused on patient diagnosis and treatment.
Northern Health is a prominent public healthcare provider in Melbourne's Northern Region, which is one of the fastest-growing communities in Australia. Established in 1998, Northern Health has become a vital part of the region's healthcare ecosystem by delivering high-quality healthcare services to its diverse and rapidly growing population. The organization's commitment to providing exceptional healthcare has led to the expansion of its services, which now include a broad range of specialist acute medical, surgical, maternity, sub-acute, and ambulatory health services across multiple locations, including Northern Hospital Epping, Broadmeadows Hospital, Craigieburn Centre, and the Bundoora Centre.
Northern Health joins the growing number of Australian healthcare providers, including Austin Health, Eastern Health, Adventist Healthcare and Sunshine Coast Hospital, who are already leveraging the benefits of the AGFA HealthCare Enterprise Imaging solution.
 Enterprise Imaging innovations providing "life in flow" to Radiologists

"The choice of AGFA's Enterprise Imaging platform aligns with our vision to deliver high-quality care and transform healthcare services through carefully considered investments in innovative technologies. Our strategic cooperation with AGFA HealthCare is a significant step forward in our quest to advance excellence in healthcare delivery in Melbourne's North. AGFA HealthCare will provide advanced imaging IT functionalities, including AI clinical decision support to our Imaging program. We are delighted to take this first step in what we trust will be a long and beneficial relationship between Northern Health and AGFA HealthCare," says Dr. Terry Kok, Director of Imaging for Northern Health.

"We are proud to partner with Northern Health in implementing our latest generation of the Enterprise Imaging platform that helps manage resource allocation, improve productivity, and provide clinical confidence with embedded AI capabilities. Today, radiologists face multiple pressure points and a constant demand to improve efficiencies of care delivery, while managing ever-greater volumes of incoming information. Our comprehensive medical imaging platform empowers radiologists to focus on patient care and confident diagnosis while increasing productivity and supporting their own well-being. In AGFA HealthCare we call it "Life in flow", says Jamie Osmond, Managing Director ASPAC for AGFA HealthCare.

"RUBEE® for AI keeps radiologists in their flow while laying the foundation and framework for analytically intelligent "clinical packages" seamlessly embedded within AGFA HealthCare Enterprise Imaging. "By creating an efficient and effective work experience for radiologists, the Chest X-ray AI Analysis package powered by RUBEE® and Lunit INSIGHT CXR will provide radiologists diagnostic confidence, optimize reading performance, and help improve productivity and overall delivery of patient care", says Dr. Anjum Ahmed, Global Chief Medical Officer and Director Innovations for AGFA HealthCare.
AGFA's Enterprise Imaging for Radiology is a comprehensive medical imaging platform that enables healthcare providers to capture, manage, store and distribute images and related data across the enterprise. Designed to support radiologists work at the top of their craft, its powerful automation features eliminate many of the menial tasks that stand in the way of doing more impactful work. The system is built to foster collaboration across departments, specialties, regions and time zones, so everyone can provide the best care to patients.