AGFA HealthCare winner of 2023 Best in KLAS award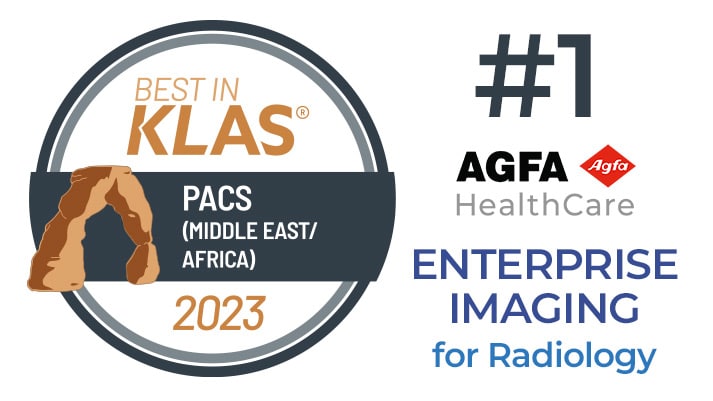 Number #1 position in KLAS PACS Middle East/Africa category highlights AGFA HealthCare's focus on delivering high value and support to its customers in the region
AGFA HealthCare has been recognized as Best in KLAS for its Enterprise Imaging for Radiology solution in the PACS Middle East/Africa category.
Nathalie McCaughley, President of AGFA HealthCare, says "Being named 'Best in KLAS' is a true achievement based on positive evaluation from our customers, who recognize AGFA HealthCare as a company that brings them to success by delivering outcomes through technology. As healthcare providers navigate an increasingly evolving and challenging environment, we are honored to help them meet their strategic, financial and operational goals. What we're seeing is that the level of engagement, adoption and utilization of our solution largely define the return on investment for our clients, and the level of benefit they experience. We are delighted at this feedback and to be recognized as the partner of choice of leading health systems across the region."

Adam Gale, KLAS CEO, explains: "The 2023 Best in KLAS report highlights the top-performing healthcare IT solutions as determined by extensive evaluations and conversations with thousands of healthcare providers. These distinguished winners have demonstrated exceptional dedication to improving and innovating the industry, and their efforts are recognized through their inclusion in this report."

Silvio Selvaggio, General Manager Direct Export at AGFA HealthCare, adds:
"The 2023 Best in KLAS award is a fantastic recognition of our efforts. We are very proud of the strong partnerships with customers in the Middle East & Africa region where AGFA HealthCare has cultivated customer loyalty by fulfilling promises  delivering solutions and continuing to innovate over time acting as the trusted partner. The recently announced successful GO LIVE of the Breast Imaging AI solution at Dubai Academic Health Corporation (DAHC) Dubai Hospital is one of the examples that demonstrates our strategic approach and pledge to support our customers' vision in the field of medical and scientific innovations."
That's life in flow
The right solutions can help healthcare leadership add value and increase the radiologist's day-to-day performance and job satisfaction. AGFA HealthCare Enterprise Imaging platform delivers 'Life in flow' to meet radiologists and clinicians' daily challenges through a highly focused, efficient, and customizable experience allowing them to focus on what's most important: getting rapidly to a confident diagnosis, and communicating it to the right people.
———————————–
About AGFA HealthCare
AGFA HealthCare supports leading healthcare providers with effective, secure and sustainable imaging data management. For healthcare providers utilizing imaging as a part of the complex, every-evolving care continuum, AGFA HealthCare's Enterprise Imaging Platform empowers you to take a patient-first approach to creating an Imaging Health Record™ (IHR) for anyone who comes through the system. From seamless integration and customizable workflows to cross-team collaboration and AI-powered automation, you can deliver on business objectives and achieve organizational goals – all while enhancing productivity and keeping clinicians focused on what matters most: diagnosis and treatment for patients.​
AGFA HealthCare is a division of the Agfa-Gevaert Group which is headquartered in Mortsel, Belgium and traded on Euronext Brussels (AGFB). For more information on AGFA Healthcare, please visit www.agfahealthcare.com, Agfa HealthCare News Section and follow us on LinkedIn.