With a seamless go-live of Enterprise Imaging, AGFA HealthCare and Northern Health partner together to bring 'Imaging without Barriers' to Melbourne, Australia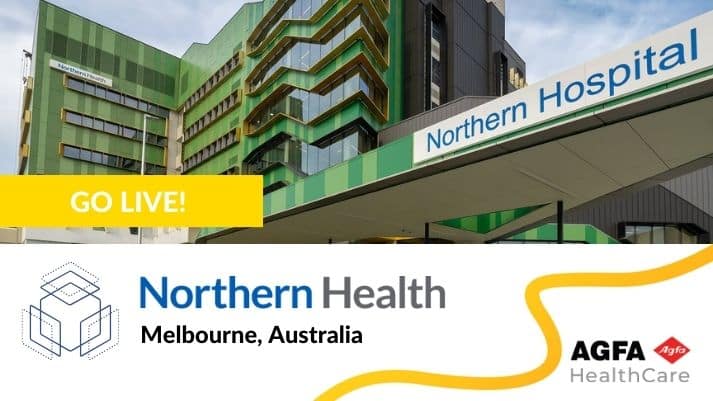 Radiologists at Northern Health highlight early workflow improvements offered by RUBEE® for AI, particularly for Chest X-ray examinations.
The successful go-live of AGFA HealthCare's Enterprise Imaging has enabled Northern Health, located in Melbourne, Australia, to bring imaging in-house across three campuses: Northern Hospital Epping, Broadmeadows Hospital and Bundoora Centre under a new medical imaging service, Northern Imaging Victoria. This latest generation of the pioneering Enterprise Imaging 8.2 Platform for Radiology, including RUBEE® AI with embedded artificial intelligence tools and a consolidated Imaging Health Record™, delivers 'imaging without barriers' – helping improve radiologist productivity and satisfaction.
Northern Health is a prominent public healthcare provider that has become a vital part of the region's healthcare ecosystem. Moving imaging in-house will allow Northern Health to provide a more integrated model of value-based healthcare that further enriches the experience of both patients and clinicians. It will also support the health provider's growth, enabling it to continue expanding the range of medical imaging services it provides to the diverse and rapidly increasing population of Melbourne's Northern region.
Advanced imaging IT platform enhance 'day-to-day' workflows
"We are very pleased with the Enterprise Imaging go-live, and the commitment and support offered by AGFA HealthCare's dedicated and expert team. The benefits of Enterprise Imaging are already felt within the health service. In particular, our radiologists are reporting improvements in workflow, especially for Chest X-rays, thanks to the RUBEE® for AI artificial intelligence tools. We are confident that Enterprise Imaging will play an important supportive role in our commitment to providing exceptional healthcare across our multiple locations," says A/Prof. Terry Kok, Director of Imaging for Northern Health.
"Enterprise Imaging helps healthcare providers overcome the challenges of the ever-increasing workload on radiologists. It builds a secure, modular and scalable ecosystem that reduces complexity, improves clinical collaboration, and enhances workflow efficiency, while RUBEE® for AI augments clinical decision-making, supports workflow efficiency and faster turnaround times. By enabling 'imaging without barriers' and eliminating distractions, Enterprise Imaging allows radiologists to stay 'in the flow'. They can focus on visual intelligence with embedded AI, and experience greater satisfaction of delivering innovation-enabled patient care," says Dr. Anjum Ahmed, Global Chief Medical Officer and Director Innovations for AGFA HealthCare.
"The seamless implementation of Enterprise Imaging at Northern Health is a testament to the quality not only of our solutions, but of our people and our support. As AGFA HealthCare continues to shape a world where Enterprise Imaging is the catalyst to delivering high-quality patient care, successful partnerships with prominent healthcare providers like Northern Health demonstrate the power of harnessing innovative technology to advance excellence in healthcare," says Jamie Osmond, Managing Director ASPAC for AGFA HealthCare.
Sophisticated workflows produce rapid results
AGFA's Enterprise Imaging is a consolidated image management platform designed to help radiologists work at the top of their craft and stay fully focused on delivering the highest level of patient care, free of distractions. By allowing images and related data to be captured, managed, stored and distributed across the enterprise, it eliminates inefficient imaging siloes. It keeps the entire healthcare ecosystem in flow, enabling healthcare providers to leverage medical imaging across the care continuum. Furthermore, at the time of report, the hospital has communicated that the investment into their AI drive has already produced measurable results – with specialized configuration assisting the hospital get through their workloads by processing more than 1000 exams.