Nathalie McCaughley joins the Agfa-Gevaert Group as President of the HealthCare IT division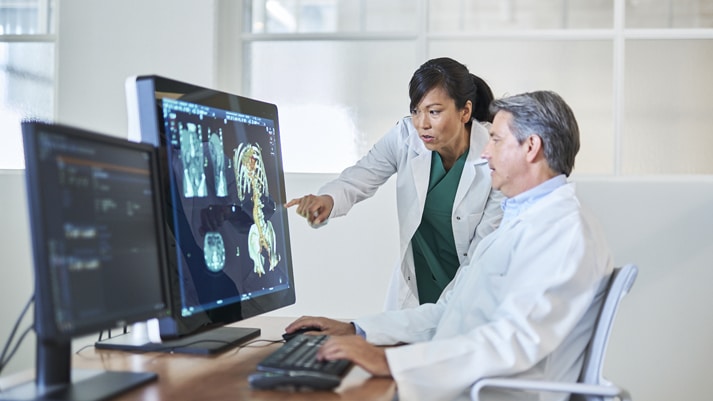 PRESS RELEASE
Mortsel, Belgium – January 27, 2022 – 6:00 p.m. CET
On February 1st, 2022, Nathalie McCaughley will join the Agfa-Gevaert Group as President of the HealthCare IT division. She is based in the USA.
Pascal Juéry, CEO of the Agfa-Gevaert Group, commented: "After having brought the HealthCare IT division back to a sustained profitability level, I am confident that its strategy to target customer segments and geographies for which its Enterprise Imaging solution is best fit and to prioritize higher value revenue streams will deliver profitable growth. I am therefore extremely pleased to announce today that Nathalie McCaughley will join the HealthCare IT team as its new President. She will ensure that the division can continue to deliver innovative solutions that meet its customers' real challenges. Nathalie will build on the strong foundations in place to further lead the HealthCare IT division's growth journey."
Nathalie McCaughley is a seasoned global leader in Healthcare IT with more than 20 years of experience in various sales and general management roles. Nathalie is based in the USA, which is completely in line with our strategic intent to further stimulate profitable growth within the North American region. It also rebalances our leadership team between North America and Europe. Nathalie will be a great addition to the HealthCare IT team and, through her leadership, will inspire her colleagues and customers globally to deliver outstanding results.
Nathalie graduated with a Bachelor of International Relations, Economics and Politics degree from the Université Panthéon-Sorbonne in France and an MBA in International Business from Regent's University in London. Her most recent experiences were with Express Scripts as their President for their Commercial & Labor division and with GE Healthcare, where she – in her 20 years with the company – held a variety of regional general management roles across all continents.
Current President of Agfa HealthCare IT, Luc Thijs, has decided to retire from the Agfa-Gevaert Group, after an outstanding career in the company spanning over more than 30 years.
About Agfa
The Agfa-Gevaert Group is a leading company in imaging technology and IT solutions with over 150 years of experience. The Group holds four divisions: Radiology Solutions, HealthCare IT, Digital Print & Chemicals and Offset Solutions. They develop, manufacture and market analogue and digital systems for the healthcare sector, for specific industrial applications and for the printing industry. In 2020, the Group realized a turnover of 1,709 million Euro.
Contact:
Viviane Dictus
Director Corporate Communication
T +32 (0) 3 444 71 24
E viviane.dictus@agfa.com
Johan Jacobs
Corporate Press Relations Manager
T +32 (0)3/444 80 15
E johan.jacobs@agfa.com