Join us at RSNA 2021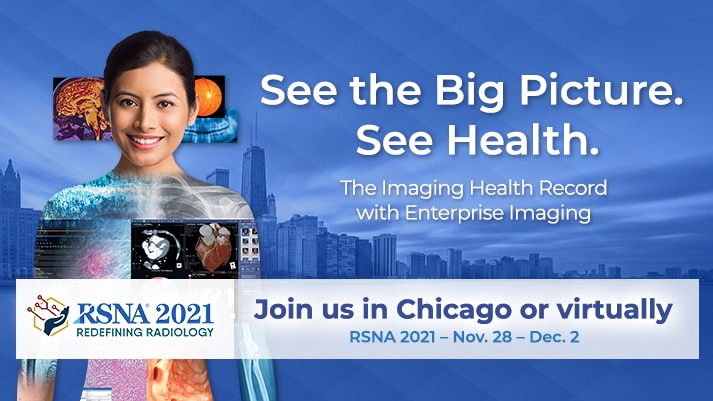 In exactly one month RSNA 2021 will open its doors in Chicago and on-line.
RSNA is a great opportunity to discover the suite of technology innovations aimed at expanding radiology productivity and workflow efficiency into value throughout the care continuum. Join us at RSNA 2021 and let us show you how the right innovative tools can help you increase the value.
Introducing a suite of innovations
►PRECISION REPORTING
NEW: our new Precision Reporting module combines customization with automation, to support increased productivity, high-quality diagnostic outcomes and enhanced physician satisfaction.
►RUBEE™ for AI
NEW SPECIALTY PACKAGE: the new RUBEE Chest X-ray AI Analysis Package, being launched this year at RSNA! It helps detect 10 common chest X-ray findings with 97-99% accuracy, and can indicate the presence and location of chest abnormalities.
►ENTERPRISE IMAGING V.8.2
NEW RELEASE: the broad range of new features that can increase trust, credibility, user satisfaction and patient safety.
►WEB TECHNOLOGY FOR CARDIOLOGY
NEW: Cardiologists can now work anywhere, anytime, with access to all the functionalities from any computer or tablet.
►CLOUD-READY VNA AND XERO VIEWER
CLOUD READY VNA and XERO Universal Viewer can help you, by supporting outsourced infrastructure management, enhanced data protection and security, and elastic scalability.
►BUSINESS INTELLIGENCE ANALYTICS, POWERED BY LOOKER
DISCOVER: a full view over your imaging, including RIS and scheduling data; plus, live dashboards with real-time insight enabling you to take  immediate action.
Sign up for the RSNA 2021 Virtual Lectures
Whether or not you are attending RSNA in-person, make sure to access the Virtual Lectures. Join our experts on innovative topics and demonstrations of the latest advancements of the Enterprise Imaging Platform.
Preregistration for the virtual lectures is available now! Launching on RSNA opening day, we will send you the lectures for you to participate at a time of your convenience.
► Enterprise Imaging 8.2 – New Release
Empowering Radiologist Productivity with AGFA EI – New Tools for Clinical Confidence.
► Augmented Intelligence
Embedding AI into Clinical Programs to Improve Diagnostic Intelligence.
► Cloud and EI VNA
From Data Silos to Data Lakes, how AGFA EI VNA in the Cloud is Transforming Healthcare.
► Enterprise Imaging and Microsoft Teams
How to Use Microsoft Teams & XERO Viewer to Enrich Decision-making and Improve Delivery of Clinical Care
► Redefining Radiology
Findings of Frost & Sullivan Research Paper
► UK & Ireland Special
Integrated Care Systems (ICS) for Health Delivery in the UK & Ireland
This is just a taste of what we have to show you. Ready to find out more?
Join us at RSNA or take part remotely in our virtual lectures on how the Imaging Health Record will drive radiology productivity and growth.
Looking forward to seeing you at RSNA!