Agfa HealthCare recognized as Cybersecurity Transparent Leader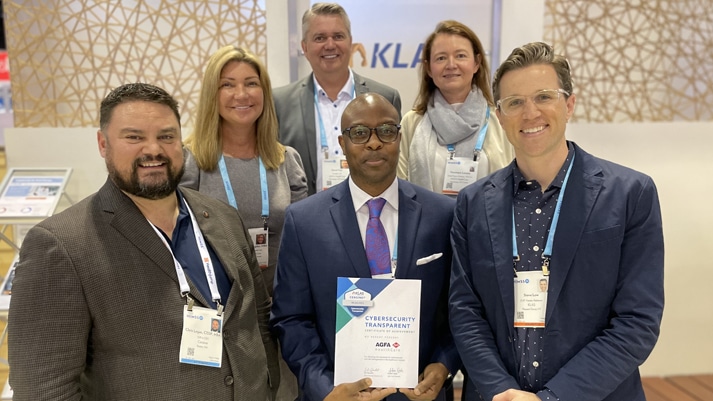 Today at HIMSS22, Agfa HealthCare received the prestigious recognition of Cybersecurity Transparent Leader, awarded by KLAS Research and Censinet.
Given the growing the importance of cybersecurity for healthcare providers, KLAS Research and Censinet have set up a program to give access to and insights into the overall preparedness of vendors and products in the different aspects of cybersecurity.
In September 2021 Agfa HealthCare was one of the pioneers in this cybersecurity evaluation. Read more here.
The designation as Cybersecurity Transparent Leader is a demonstration of our a willingness to share and continually improve our overall cybersecurity maturity and shows our commitment to our clients to support them in the delivery of safe and secure patient care.
Congratulations to the entire team that made this happen, and will continue to do so!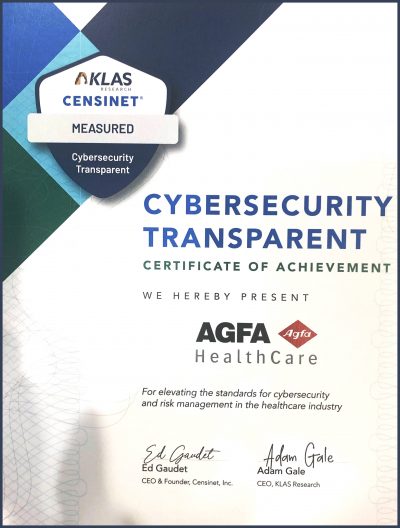 About the KLAS/Censinet program on cybersecurity transparency leaders, see an extract from their website below. For more information, click here.
KLAS, a healthcare research and insights firm, and Censinet, the leading provider of healthcare IT risk solutions, are strategic partners on a joint mission to improve cybersecurity preparedness in healthcare. Recently, the companies announced a strategic plan to modernize cybersecurity in healthcare. This new initiative builds upon the recent Presidential Executive Order on Improving the Nation's Cybersecurity and the partnership between the companies last year to help healthcare IT vendors and services firms improve their overall risk and security profile by driving greater trust and transparency to thousands of healthcare providers.