Agfa HealthCare earns #1 customer experience for VNA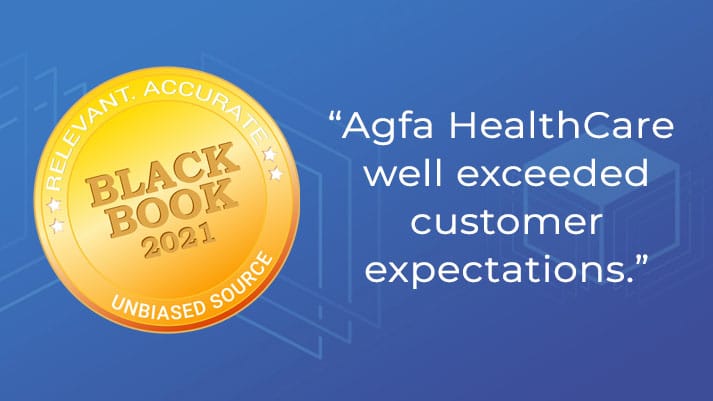 Agfa HealthCare Earns Third Consecutive #1 Customer Experience Rating in Vendor Neutral Archive Solutions, Black Book Survey
Proud to share the press release, issued by Black Book Research on Sept. 2, 2021.
Black Book Market Research LLC measures customer experience across 18 VNA (Vendor Neutral Archiving) solutions key performance indicators.
Agfa HealthCare received top user scores in 10 key performance indicators, besting over 19 VNA competitors: KPI's include strategic alignment of client goals; innovation and optimization; client relationships and cultural fit; trust, accountability, transparency, and ethics; customization; reliability; brand image and marketing communications; marginal value adds; data security and patient privacy; and best of breed technology and process improvement.
"Agfa HealthCare well exceeded customer expectations and notably rated highest with the largest archive of data storage among all measured VNA solutions," said Doug Brown, president of Black Book Research.
Simplify your IT landscape and enhance care collaboration, with curated, good-quality multimedia image data, stored in one place.

Transitioning to the Enterprise Imaging VNA is about more than solving your imaging data storage challenges.
It's about providing image identification and capturing workflows that ensure that your metadata has excellent quality when creating a patient longitudinal view accessible within the EMR.
It is also about planning your archiving needs with the future in mind and exploring your cloud storage options.
It supports your corporate evolution, such as becoming part of a regional network, reducing IT complexity and cost.
Most importantly, it's about giving your clinicians easy access to the entire patient imaging record and supporting the collaboration needed to deliver excellent patient care.
The Enterprise Imaging VNA ticks all these boxes, with a modern, standards-based platform purpose-built on the latest technology.
Discover 6 good reasons to transition to Enterprise Imaging VNA today. Start here.