Arab Health 2022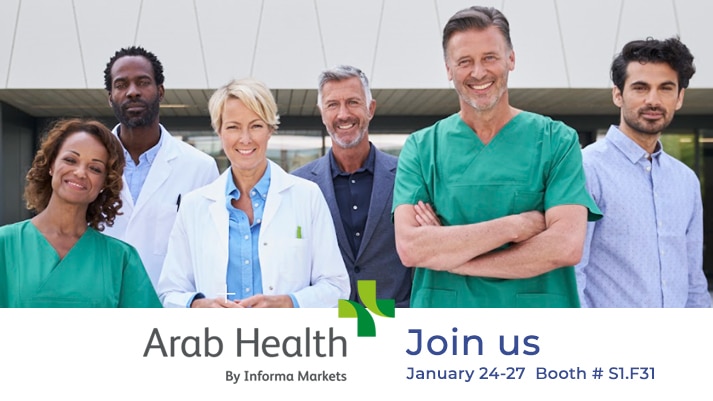 Looking forward to welcoming you soon at Arab Health 2022!
In less than 2 weeks Arab Health 2022 will open its doors in Dubai and we are delighted to return in person to this leading healthcare exhibition in the region.
Arab Health 2022 is a great opportunity to discover the suite of technology innovations in Enterprise Imaging aimed at enhancing productivity, increasing workflow efficiency, and boosting the value of medical imaging throughout the care continuum.
At booth S1.F31, the Agfa HealthCare Middle East team supported by global experts, will be showcasing the latest release of the Enterprise Imaging Platform, including these innovations:

Precision Reporting
This innovative add-on to Enterprise Imaging is a web technology-based framework designed to increase the overall level op report quality. With structured, systematic reporting that guides the user through content, diagrams and graphs, annotations and more, to create high-quality, consistent reports. Radiologists can translate their imaging findings into clear, usable diagnostic information. Components that make it easy and fast to input data further increase understanding of interpretation and allow consistent communication from diagnostician to referrer.  Meet us at Arab Health 2022, Booth #S1.F31, to see pre-defined & customizable templates. Discover more here.
RUBEE® for AI
Introduced last year, RUBEE for AI seamlessly embeds augmented intelligence specialty packages in Enterprise Imaging. Specialty packages for CT Lung, Chest and Breast Imaging specialties visualize the metadata generated by algorithms and use that information to automate and optimize your workflows, all within your Enterprise Imaging ecosystem. At Arab Health 2022, discover how healthcare providers get more from their AI investments, while supporting clinical workflow from start to finish. Discover more here.
Business Intelligence analytics, powered by Looker
This new technology for Business Intelligence simplifies the creation of custom reports while offering pre-defined reports, to help improve the analysis and understanding of KPIs. Both live and historical data from Enterprise Imaging can be explored, while new data visualization using Looker technology supports efficient departmental management. And the analytics module offers a full view of not only imaging data, but also RIS and scheduling reports. Discover more here.
Unified Enterprise Imaging Platform
With this latest release of the unified Enterprise Imaging Platform we help our clients manage resource allocation, improve productivity and provide clinical confidence. The platform speeds diagnoses to drive an improved patient experience. At Arab Health 2022 we will showcase how the technology suits multi-specialty requirements and securely standardizes workflows, to collaborate seamlessly between departments and across geographies.
David Hatton, Regional Sales Manager Middle East, Agfa HealthCare comments: "As the innovator behind Enterprise Imaging, Agfa HealthCare is delighted to present the very latest developments in Healthcare Imaging IT to the medical community in the Middle East at Arab Health 2022. We're thrilled to able to meet in person again, to re-engage face to face and continue discussions."

Mustafa Hamdy, Regional Sales Manager Middle East, Agfa HealthCare, concludes : "We warmly invite you to join us at booth #S1.F31 to present and share with you innovations that will bring you and your organizations further efficiency gains and will support further enhancement to the delivery of patient care."
See you soon at Arab Health 2022, Booth # S1.F31