Austin Health
Heidelberg, Victoria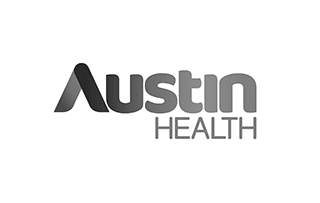 Austin Health closes a data security gap with the Mobile Image Capture technology, keeping patient information safer while enriching the EMR with a greater variety and number of images.
Protecting patient privacy when using mobile devices for clinical imaging
It has been called a ticking time bomb for hospitals: clinical medical images taken by caregivers on their personal mobile devices (PMD). Smartphones and tablets are not only ubiquitous in today's world, but have become extensions of ourselves that we use without thinking. And while this may be the age of the selfie, the ability to instantly capture good quality images anywhere offers important new possibilities in many sectors, including healthcare. Yet this extended universe of imaging creates its own challenges – especially how to secure and control the images, in order to help protect patient privacy and enhance the delivery of patient care.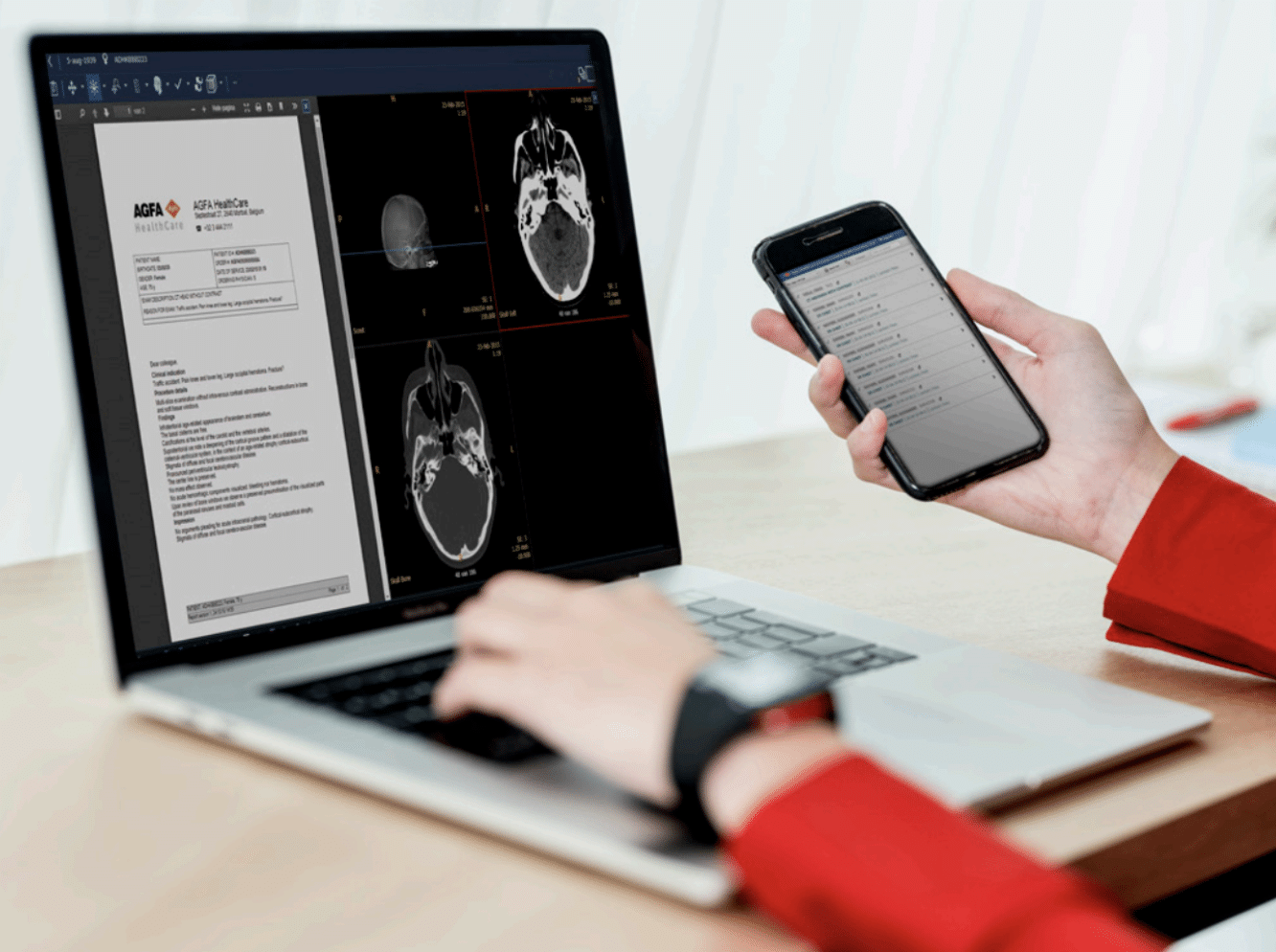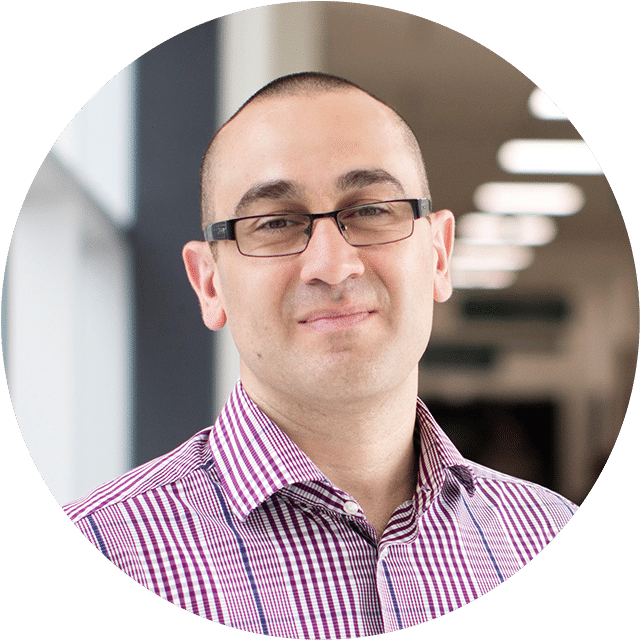 Deputy Chief Medical Officer
and Director of Quality and Safety
"Our medical staff about was using their mobile phones to take clinical images of patients, but were concerned about potential data security risks."
Deputy Chief Medical Officer and Director of Quality and Safety
The age of the selfie
"About two years ago, we started hearing from our medical staff about a new patient privacy concern," Dr. Eleftheriou, Deputy Chief Medical Officer and Director of Quality and Safety for Austin Health, in Heidelberg, Australia, recalls. "Physicians were using their mobile phones more and more to take clinical images of patients, but were worried about potential data security risks."
The hospital turned to AGFA HealthCare and its Mobile Image Capture technology for a solution that would keep patient data safer, integrate directly with the EMR, and be so easy to use that caregivers would adopt it naturally. Since its implementation in July 2017, the hospital has already seen impressive results, explains Dr. Eleftheriou.
The problem: Not an easy nut to crack
As creators, holders and owners of personal information, healthcare organizations across the world are heeding the call to develop processes that offer protection for personal patient data. In the case of the clinical photos taken with PMDs, "The images were either going into individual cloud storage or were being saved in the phone itself, and were being sent to colleagues via SMS or other messaging applications.Sometimes, patients could potentially be identified in photos, or images could be sent to the wrong correspondent.
And while the physicians were taking and handling these photos with the best intentions, good intentions aren't enough," continues Dr. Eleftheriou. The hospital was also missing out on an important patient care benefit: "A clinician would take an image and send it to a specialist colleague for an opinion, for example, but that would be the end of it: the image never became part of the patient's record."
Individual Cloud
or local storage
Communication via SMS
or other messaging
applications
Potential identification
of patients
No central storage
in the EMR
Tools and functionalities that get radiologists "in the flow"
A working group, chaired by Dr. Eleftheriou, and including representatives from the medical staff, nursing, legal, health records, and a patient, began scoping out possible solutions. "There were a few out there – one offered by a major telecommunications provider, and a few free applications, which really weren't suitable. Then our radiology colleagues suggested AGFA HealthCare, which provides our image management solution. I met with them, and the rest is history," smiles Dr. Eleftheriou.
There was actually quite a bit more to it, as he goes on to explain. The working group had defined several requirements for an image capture solution. "Today, people use their PMDs for everything – messaging, emails, web browsing. So it's natural for them to use the integrated camera. The image capture solution needed to be just as easy to use, but provide the safety and security our patients count on," he explains.
"The Mobile Image Capture platform needed to be easy to use, while providing the and security our patients count on."
Dr. Paul Eleftheriou
Deputy Chief Medical Officer and Director of Quality and Safety
AGFA HealthCare's contribution

AGFA HealthCare collaborated closely with the Austin Health working group to customize Mobile Image Capture technology to meet the defined specifications. This included configuring the solution to enable image capture and upload with as few clicks as possible for the user.

To help protect privacy and data security, only clinicians who have been trained and awarded log-in credentials for the EMR may use the Mobile Image Capture solution. This can include doctors, nurses, physical therapists, occupational therapists, social workers, and other clinical caregivers whose job is directly to
treat patients.

Mobile Image Capture is an add-on to Austin Health's image management solution, and is integrated directly with the EMR. The AGFA HealthCare Enterprise Imaging XERO® Universal Viewer provides secure access to all the imaging data stored, and clinicians have multiple avenues to view images, whether on PMDs, desktop computers, workstations, etc.
Reducing costs and complexity, enhancing speed and connectivity
On a more global level, the working group also wanted a solution that integrated with existing systems: "For Austin Health – as for many other hospitals – a key principle is to avoid having too many clinical IT systems. We certainly didn't want to create another one here."
"Mobile Image Capture is an add-on to our existing AGFA HealthCare image management system, so it fits in our principle to consolidate IT systems."
"Since the image is now part of the EMR, any colleague can view it via the AGFA HealthCare Enterprise Imaging XERO® Universal Viewer, on any workstation, etc. It's available quickly and securely."
"It all takes 5-7 clicks in total, which is very quick especially compared to other technologies out there."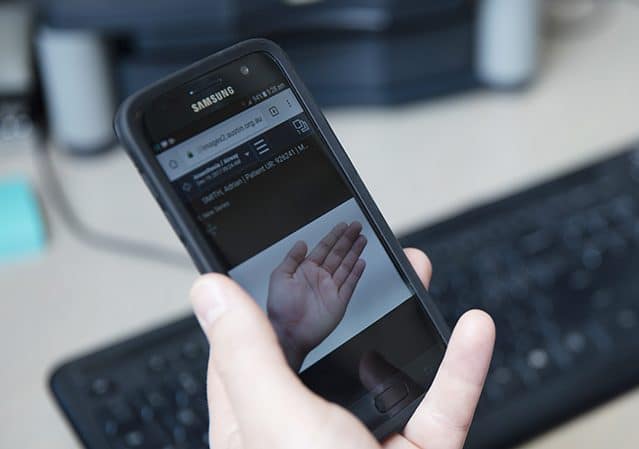 "It was easy to extend our existing AGFA HealthCare system"
Deputy Chief Medical Officer and Director of Quality and Safety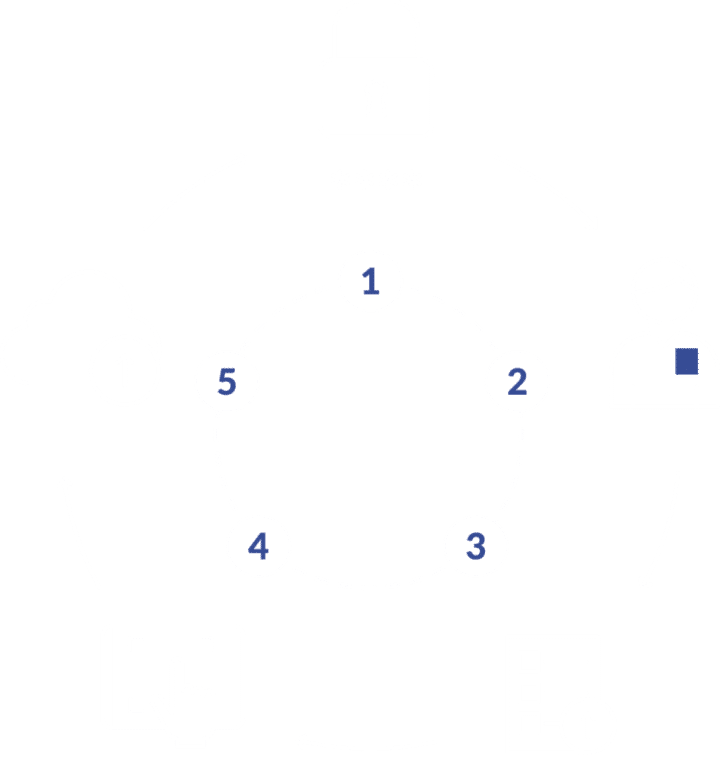 1

The caregivers log on with their user name and password.

2

They find the patient in the system

3

They indicate the type of photo from the list: wounds, burns, educational, diagram, etc.

4

5
Clinicians tell me 'you have made my life so much easier!'
"In the first four months, over 700 imaging studies were uploaded using the application. "That's about 50 per week, and increasing all the time," comments Dr. Eleftheriou. "And the scope of the images is extending, as well." "Initially," he explains, "spinal doctors, plastic surgeons and especially dermatologists were creating images with their PMDs."
But as word of the solution spreads, other departments and specialties are getting in on the act. "The emergency department asked me to show them how to use Mobile Image Capture for a specific case. Then wound nurses wanted to see how it could be used in their domain."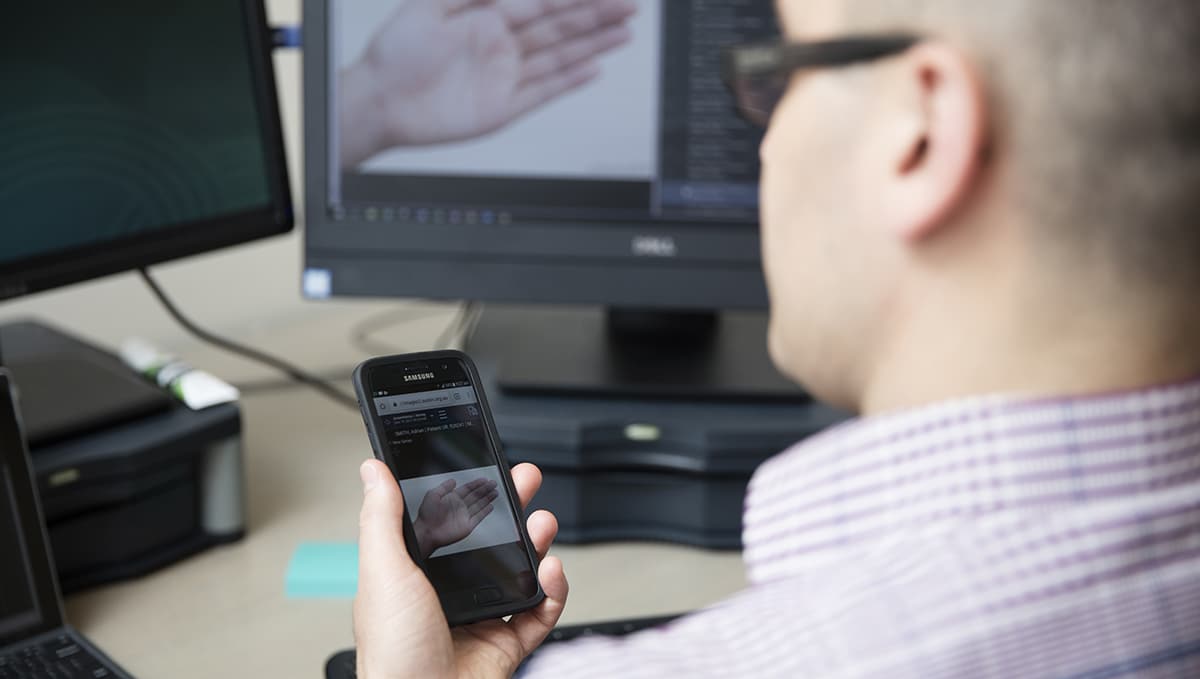 "Mobile Image Capture is both very simple and very sophisticated. It shows that innovative solutions don't have to be complex – they have to get the job done."
Deputy Chief Medical Officer and Director of Quality and Safety
"It's spreading like wildfire, which is what we want!"
"By providing more images, with quick access, we can enhance the efficiency of patient care. And it extends outside the hospital to homecare or residential outreach. So it's a solution that fits in the evolving healthcare model.
I recently presented the project to a group of technology students who wanted an example of how to take an idea and turn it into a real solution. Next year, we will look into additional functions and capabilities."
"AGFA HealthCare's Mobile Image Capture technology met all of our requirements, for data security and more. It's been an exciting exercise and there is still more to come."
Deputy Chief Medical Officer and Director of Quality and Safety
Austin Health was founded in 1882. Today, it is a public, tertiary hospital with over 900 beds, 1500 physicians and 3500 nurses. Annually, the hospital sees over 95,000 inpatient admissions, 177,000 outpatient attendances and 75,000 emergency attendances.
Austin Health is also a teaching hospital, associated with eight universities, and is the largest provider of training for specialist physicians and surgeons in the state of Victoria. It is located in Heidelberg, a suburb of Melbourne, which is the second most populous city in Australia. Located in the south-eastern part of the mainland, Melbourne has been ranked the world's most livable city every year since 2011 by the Economist Intelligence Unit.